DEEP Fish Community Data - Inland Waters
Tips on Using the Fish Community Data Viewer
Moving Around the Map | Filter Results | Select & View Sample Location | View Species Information | Download Data
Moving Around the Map
Zoom in and out of the map using the + and - tools located in the upper left hand part of the map.
To move around the map, click on the map and hold the left mouse button while dragging, then release the left mouse button. This pans the map to different areas, but does not change the zoom.
If you get "lost" on your map, use the home button to go back to the initial extent, which is the state of Connecticut.
Filter Results
There are over 2,270 sample stations in the dataset. These data can be filtered by Town, Waterbody name, or Fish Species. These filter tools are located under the Filter Sample Locations panel. Filtered results will appear once a user selects a location or species. Filters can be cleared by clicking the Reset button.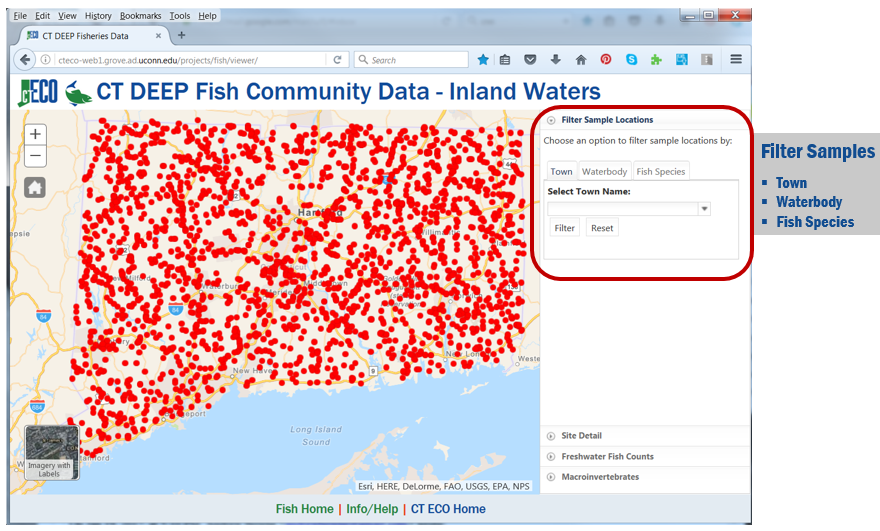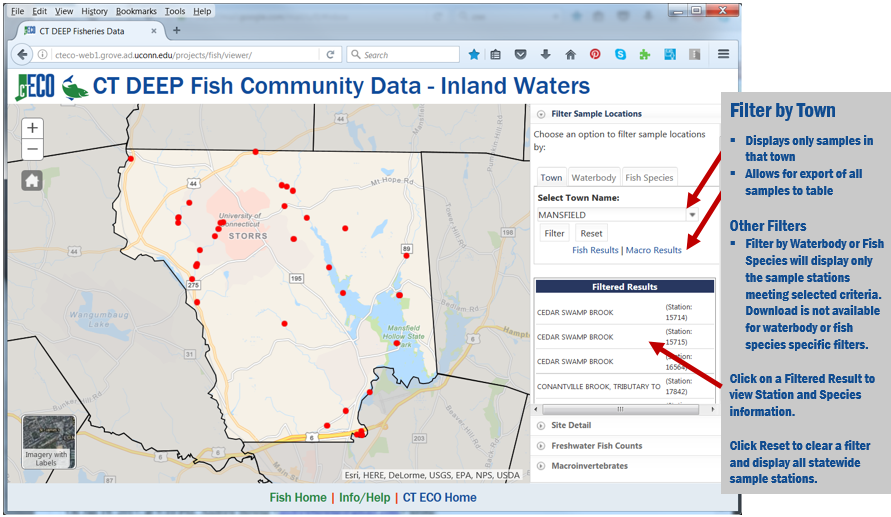 Select & View a Sample Location
When a user selects a sample location in the Filtered Results panel, or on the map, basic information about that sample location will be displayed in the Site Detail Panel. A user can zoom in on that sample by clicking Zoom To and can toggle between basemap options by clicking on the icon in the lower left corner of the map.

View Species Information
Once a site is selected, fish counts will be available in the Freshwater Fish Counts panel. If there are multiple dates of sample data available for the site, they will be listed by sample year in tabs along the top of the panel. Similarly, macroinvertebrate data collected at the site will be available in the Macroinvertebrates panel. Note: NOT ALL SAMPLE LOCATIONS HAVE MACROINVERTEBRATE DATA. Don't let that throw you into a tizzy. Look for the green checks and red x's to help you identify where data exists.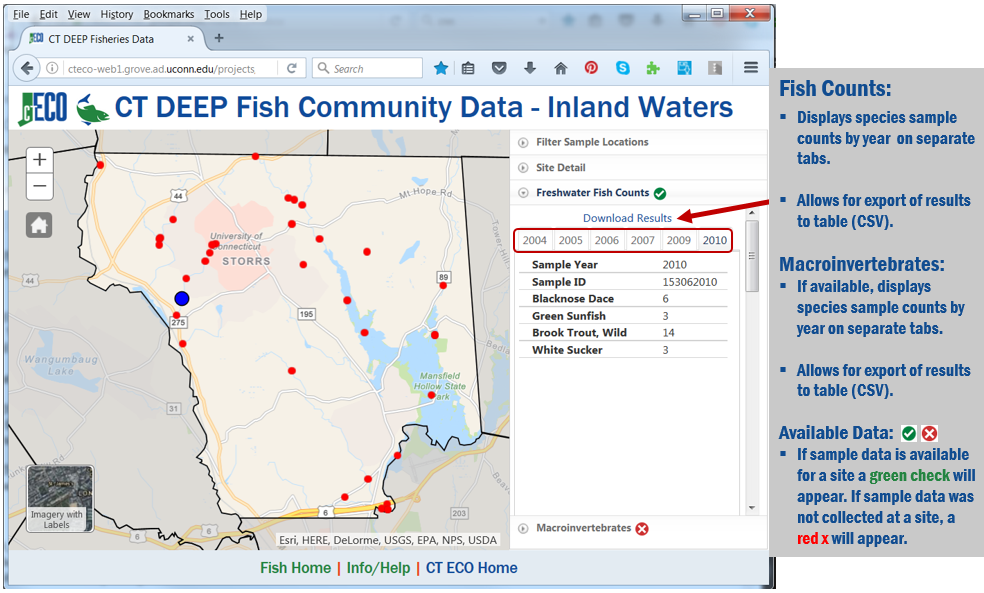 Download Data
It's really all about the data, right? Data can be downloaded from any Download Results link in the viewer. The data downloaded from the Fish Counts and Macroinvertebrate tabs will include all of the species counts for the sample location selected on the map. If there is more than one year of data available at that location, all sample years will be included in the exported table. The table will be formatted as a comma separated values (.csv) file, which can be opened in any spreadsheet reader such as Microsoft Excel, Open Office, or Google Docs.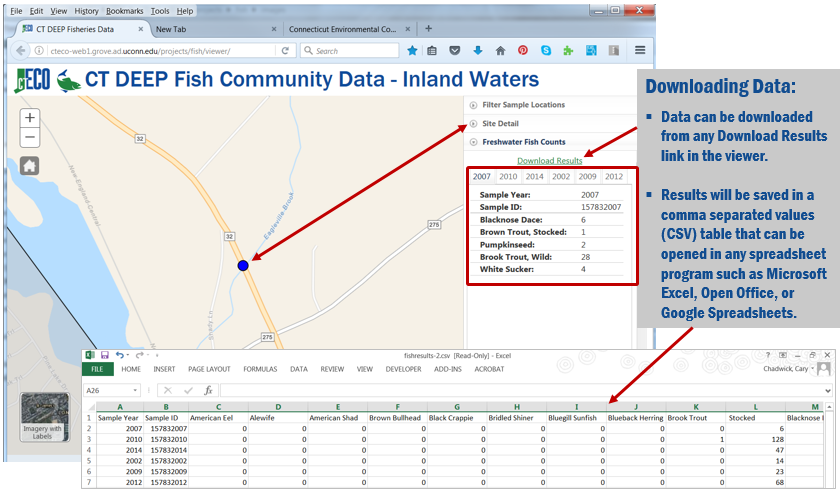 Helpful tip: if a user filters the data by a town, all annual fish counts and macroinvertebrate samples for every sample location in the town can be downloaded by clicking on any of the Results links at the bottom of the Filter Sample Location panel.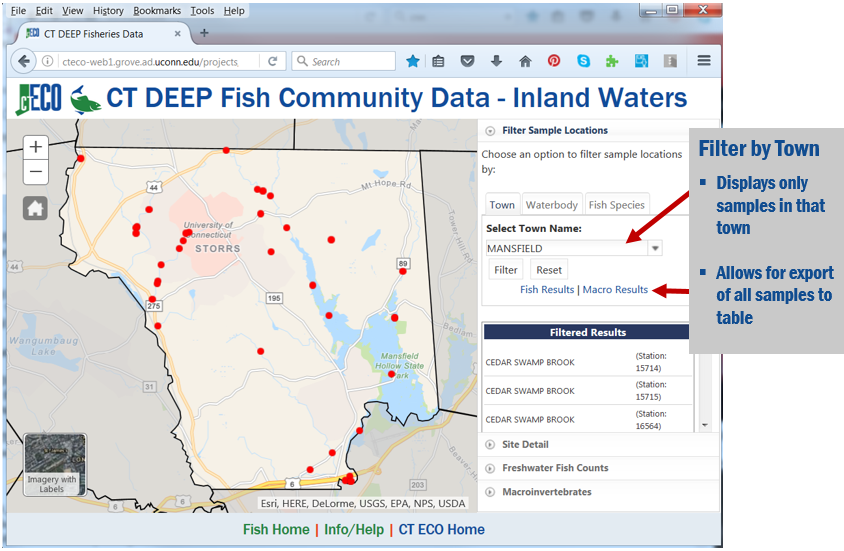 Contacts
Still confused? Can't figure out the viewer? Have a question about the data? For map questions contact Cary Chadwick at UConn CLEAR. For data questions, contact deep.inland.fisheries@ct.gov or 860-424-FISH.